EPCOS PF Controller BR 7000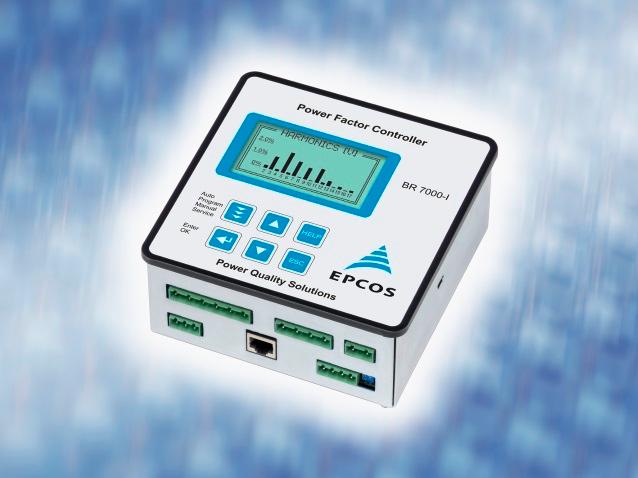 Product Details
The PF controller BR7000 is a follow-up development of the PF controller BR6000-series, featuring two devices in one: it can be used as a controller as well as a grid measuring tool. The BR7000 offers 15 relay outputs for the steps and three message/alarm relays. Due to the possibility of programming, the 15 outputs can be used for a broad range of applications, for example:
15 conventional steps, each for one three-phase capacitor

15 steps for single-phase capacitors, where each output will switch a single-phase capacitor to N (usually 5 per phase, balancing of grid is possible)

Mixed operation: 6 single-phase capacitors (2 per phase) for balancing plus 9 steps for conventional compensation (three-phase capacitors)
The controller can be connected to a PC via an RS485 interface. The Windows-based software BR7000-SOFT allows the readout of acquired data. The possibility of graphical display of all values offers a comfortable visualization.
Features
LCD full graphic display 128 x 64 dots, 8 lines

Self explanatory menu navigation in five languages

HELP-button for interactive help text

15 switching outputs

3 additional alarm/message relays

2 isolated interfaces

Detailed error messages with time stamp

Automatic initialization/test run

Automatic and manual operation,service operation, expert mode

Three-phase and single-phase controlling; mixed mode possible

Display and storage of maximum values, switching operations and operating time

Display of date and time

Time-controlled functions possible by internal timer

Oscilloscope mode for graphical display

Quick programming