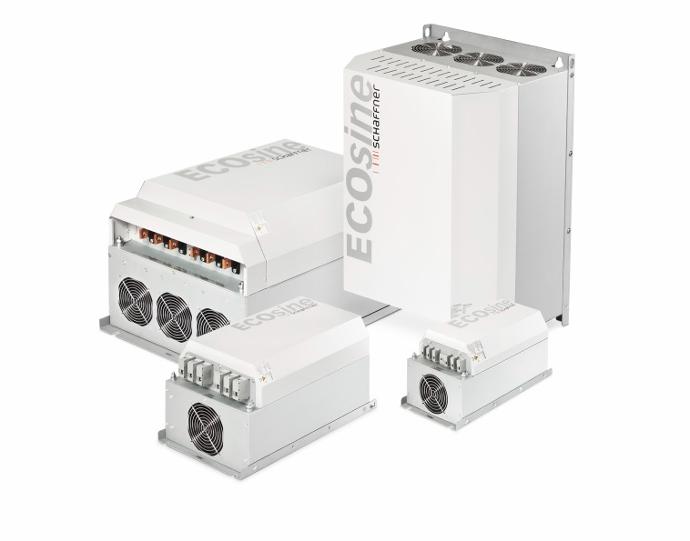 ECOsine™
A better way to Power Quality Schaffner ECOsineTM harmonic filters represent an economical solution to the challenge of load-applied harmonics mitigation in three-phase power systems. With a plug-and-play approach and more compact dimensions than comparable products, they can be quickly installed and easily commissioned. They increase the reliability and service life of electric installations, help utilize electric system capacity better , and are the key to meet Power Quality standards such as IEEE 519. Schaffner ECOsineTM harmonic filters provide:
Efficient mitigation of harmonic currents.

Compliance with IEEE 519 and other Power Quality standards.

Increased equipment service life and system reliability in mission-critical applications

More efficient utilization of electric system capacity (e.g. distribution transformers)

Long-term savings in system operation and maintanance cost

Support energy savings

Fast and simple plug-and-play operation

Very compact and light-weight filter concept

Seamless integration with previously installed DC chokes or EMC/EMI filters
ECOsineTM filters calm your harmonic waves. Shaffner ECOsineTM filters can be applied to virtually any kind of power electronics with front-end six-pulse rectifiers, where harmonic current distortion needs to be reduced to defined limits. Typical applications, where the above-mentioned non-sinusoidal consumers of power can account for a significant portion of the load , include:
Equipment with front-end six pulse rectifier

Motor drives

Factory automation equipment

UPS and three-phase power supplies

Water/wastewater treatment facilities

Oil and gas exploration

Heavy industry and machinery

Self contained system (e.g. ships)

Fan and pump applications

Battery chargers

HVAC installation

Mission-critical processes
Like what you see?

Get in touch with us for a detailed quote.